Thanks for showing your interest. Each one of these little Memory Houses are custom made and we take great care in accurately reproducing the Memory House in fine detail. The Memory House can have many different options based on your own wishes. They are made to last a long time and it is our hope they provide memories for generations to come.
They can be completely done with lights operated by remote control, painted to match the original cottage or house, and 3D printed features added to enhance the memory.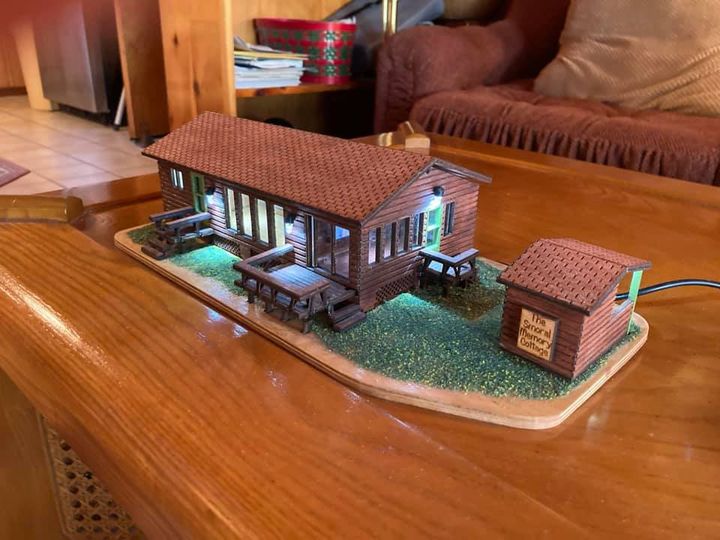 Part of the reason they are called memory houses is the duplication of the building. However the other reason is with interior walls, we can add miniature framed pictures. So that when you look in each of the windows a different image is seen, adding to the memories.

The Basic Building, which includes the 3D modelling of the original cottage, 1 storey, average 3 bedrooms. Then creating a pattern to be used for laser cutting the components all produced using 3mm high quality Birch Plywood. Creating the images for the textures on the exterior of the building, (shingles, siding, window and door frames, etc. ), and the plexi-glass cut for the windows. – 1 Storey $695.00 – 2 Storey – $895.00.
Painting and Staining – to match the existing building exterior, interiors done in white to enhance the lighting – $125.00. You can paint it yourself to add to the memories, should you wish.
Lighting – includes the Arduino type computer and remote control unit, wiring and programming of the LED lights, 3D printing Light fixtures for mounting exterior lights – up to 10 lights – $255.00 – each additional light $15.00
Memory Images – these images are provided by you and are framed and mounted on interior walls. A basic floor plan is needed. -$15.00 each. Interior walls – Free
3D Printed Enhancements – Various prices based on the item. Examples are BBQs, Patio Furniture, etc. – quoted prior to starting
Out Buildings – Price negotiable/quoted prior to starting
Trees – $10.00 each
Base with Grass – Flat base – Free
What you need to provide; 

images of all 4 sides – best quality, focused cell phone images or better work.
A basic layout of the cottage, ( floor plans, ), can be simple hand drawn images. And measurements of the length and width of the building.
Provide images for memories
The total cost for a completed building would be around $1200.00, (1 Storey). This would be a complete working memory house with approx. 8 memory images and a couple of trees.
More Pictures and videos to come…